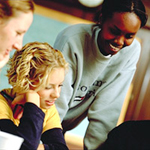 mailing list
Want to find out all the latest news from EzyLearn?

Just enter your name and email address below and we will add you too our mailing list and discussion list.
Tuesday, April 22nd 2003
Equine eLearning has engaged Ezylearn to develop the first of their online training resources. Equine eLearning, an endevour of New Zealand Pony Clubs Inc. will deliver online training to Zew Zealand Secondary Schools via the web using the Ezylearn platform. This is an exciting new venture and a great way of distributing training. Link to the New Zealand Pony Club site.
The FUTURE of learning is here!
Anywhere Anytime Anyone
login
updates
March 25th 2003
All users have been upgraded to the new messaging system which is far more flexible than in the past.